If you're a fan of Asian barbecue, an Asian "charcuterie" board is a creative twist to the traditional meat platter. A beautiful board filled with char siu, sweet sausage, crispy pork, spring rolls and potstickers will entice a large group to dig in!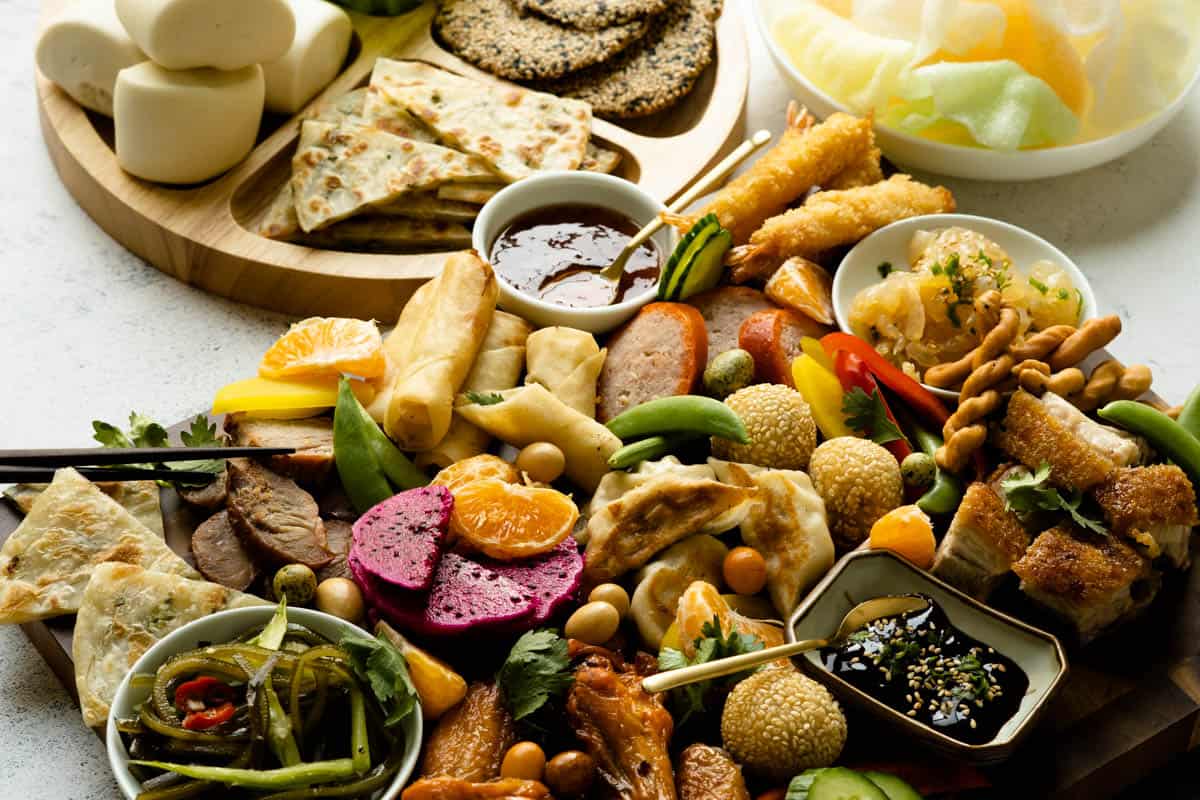 Asian snacks are perfect to create a cravable board of barbecued meats, warm appetizers, fresh fruits and vegetables, pickled condiments and sauces/condiments. Asian cuisine isn't really big on cheese, so the main focus will be on the protein with complimentary finger foods.
What I love most about a charcuterie board is it makes a statement and is a fun way to bring everyone to the table. What I love more as a host is you can put this thing together with all pre-made or store bought food without giving up any credit.
If you're pressed for time, I'd go to my local Asian grocery store and pick up everything at the hot food aisle and snack shelves. On a budget? No worries, I'd get pre-made frozen stuff to cook at home. If you have the time and/or a Chinese mom/auntie, you can make it from scratch 🙂
How Much Food Do I Need on My Asian Charcuterie Board?
If you're serving your Asian charcuterie board as an appetizer, here is a good guideline for variety:
4-5 different varieties of meats or appetizers
3+ different types of complimentary snacks
3+ different types of extras
As for portion sizes, I'd use the following:
2-3 pieces each for meats or appetizers (1-2 each if the pieces are larger than your palm)
More snacks/extras the better! You'll want a bao or wrapper per piece of meat/appetizer you have. As for fruits or veggies, the more the better and plentiful since guests might want to snack on those.
If you're serving your Asian charcuterie board as a main dish, add extras of everything and pair it with fried rice and/or noodles. You can also put in a side of Chinese vegetables to round out into a family meal.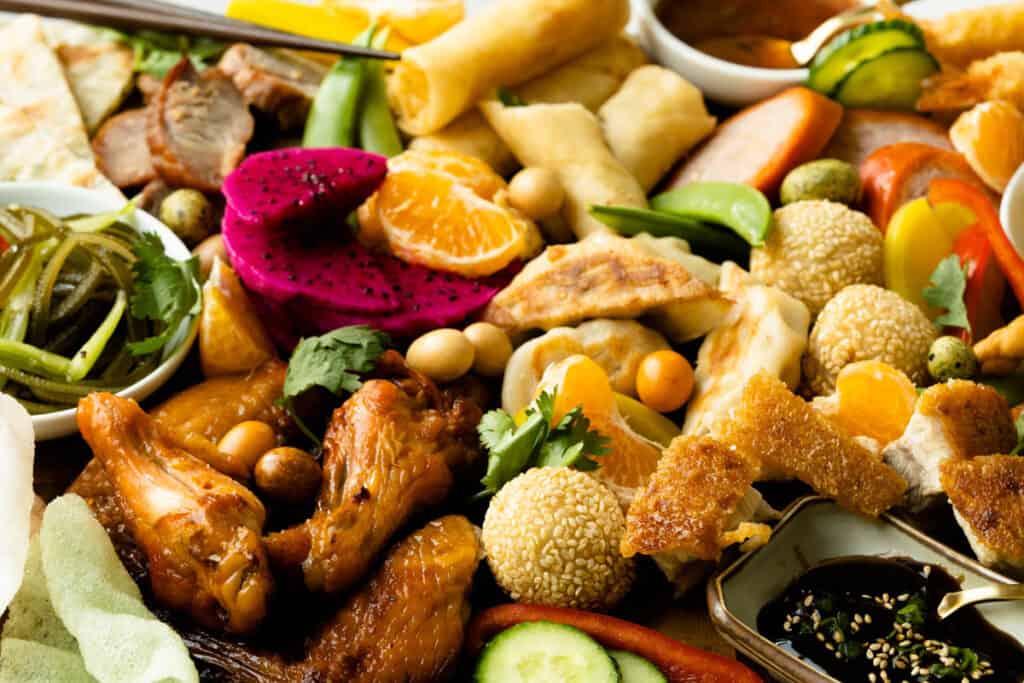 The Best Meats for an Asian Charcuterie Board
There are all kinds of meat all over Asia to choose from and try net new. Depending on where you live, some are more easy to access than others. Here are some of my favorites:
Chinese Barbecue – One of my all time favorites – salty, sweet and succulent, Chinese barbecue will go great on any board. I'd recommend choosing items that are sliceable and boneless to make it easy to eat. Sliced char siu, crispy pork and red sausage will all work great since they aren't saucy and messy. If your budget allows, succulent pig or peking duck with sides will be great crowd pleasers too. Order these from your local Asian grocery store/restaurant and ask the butcher to slice it up to make it easier during assembly. You can also make your own like this char siu chicken – it's really simple!
Skewers – Grilled shrimp, chicken satay or pork skewers are great options especially if you plan to serve your Asian charcuterie board as a main. Different varieties of meatballs like fish, cuttlefish, beef and shrimp are available in most Asian grocery stores. Stack or pile them on top of a bed of lettuce will make them easy to grab and eat.
Sausages – Sausages are the most versatile and every Asian culture has their own version. Bigger sausages like Chinese red sausage or pork nam should be sliced thin whereas smaller preserved ones like lap cheong and spicy cured pork sausages should be steamed whole and sliced thicker. Vietnamese grilled pork sausages (a.k.a. nem nuong) can be on skewers or served whole.
Fried Chicken – Japanese/Korean/Taiwan fried chicken are all great options. There are so many varieties of fried chicken in Asia. Just make sure it's boneless. If you're unable to locate a proper restaurant, you can use chicken nuggets with an Asian dipping sauce.
Jerky – There are various kinds such as beef, pork, chicken and cuttlefish. Asian jerky is usually sweeter and has a lovely smoky flavor to them. Try an Asian spicy beef jerky to change things up.
The Best Appetizers for an Asian Inspired Board
Just like the meats, there are countless Asian appetizers. Here are some of the best things to look for:
Spring rolls – Fresh Vietnamese spring rolls bring an element of brightness to your board. Crispy fried spring rolls, shrimp and egg rolls are always crowd pleasers too. Check the freezer section or the hot food section of your Asian grocery store.
Pot Stickers – Most grocery stores carry different varieties of frozen Asian dumplings from Chinese, Korean and Japanese (a.k.a gyozas) usually filled with chicken, pork or shrimp. Korean pot stickers are my personal favorite due to the thinner wrappings and variety of fillings like mushrooms and glass noodles. Pan fry them based on the package instructions.
Deep Fried Wontons – Shrimp wontons are sweet, crispy and delicious. You can also buy these frozen or make them from scratch. Most Asian grocery stores will have them readily available in the hot food section or your local Chinese restaurant.
Sesame or Rice Balls – Don't limit to just savory items – sweet snacks will balance out your board. Sesame balls filled with sweet fillings like red bean or black sesame are great alternatives. A great source would be a Chinese/Asian bakery if you have one close by.
Complementary Bites and Wrappers
These ensure your bites are all kept together.
Steamed Bao Buns/Mandarin Pancakes – Usually steamed in the Chinese restaurant, you can also purchase these frozen and steamed at home. If bought beforehand, prior to serving cover with a dampened paper towel to soften them up. I recommend just the plain steamed bao instead of the filled ones with pork since they are vehicles for your meats. Peking duck is always served in a floured wrapper with green onions, shredded carrots and sweet hoisin sauce.
Iceberg Lettuce Wrappers – For a low carb option, crispy lettuce wraps is a great alternative to bao and helps balance out the salty meats.
Onion Pancakes – Originating from Shanghai, onion pancakes can be eaten alone or used as a wrapper for your meats. Check the frozen section of your local Asian grocery store. They only take a few minutes to fry them up in a pan.
Fresh Vegetables/Fruits – These will add freshness to the meats and appetizers plus add color to your board. Sugar snap peas, carrots, cucumbers, red peppers, Asian pear, fresh orange slices, clementines and green muscat grapes are all complementary Asian flavors.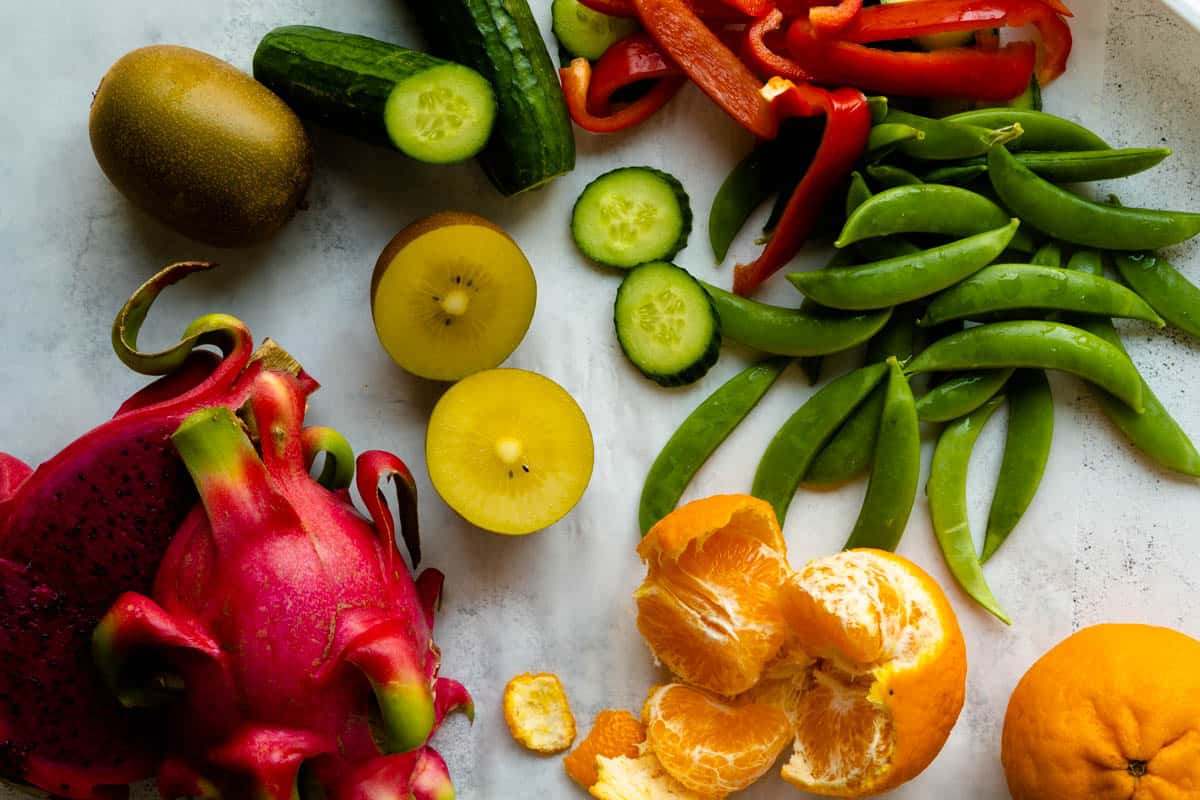 Add-On Extras
These should be plentiful and will fill out the rest of your board.
Sauces – Sweet hoisin, plum or peanut sauce and sweet chili sauce are great for Chinese barbecue. Spicy Sriracha mayo and sweet sesame dressing work with the deep fried elements. Place the sauces close to the items they should be paired with.
Pickled Vegetables – Japanese (takuan) or Korean (danmuji) yellow pickled radish, spicy pickled Japanese cucumbers and Kimchi will create a crunchy, delightful contrast to the richer fattier flavors.
Other Snacks – Crunchy peanut candy, wasabi peas, spicy peanuts, shrimp chips and crispy noodle snacks are all well known and served in Chinese restaurants. Sesame seed crackers such as Pop Pan and snacks made by Calbee such as Harvest Snaps, crispy rice crackers and sesame peanut candies. One of the best times to put together an Asian charcuterie board would be around Chinese New Year. Around the lunar new year (i.e. end of January/early February) your local Asian grocery store will have different things and lots of snacks and treats to choose from to build your snack board.
How To Assemble Your Asian Charcuterie Board
Utensils – Make sure you have separate spoons for any sauces or condiments and there are enough or you might end up with a sticky mess! I highly recommend miniature tongs for anything not skewered. Throw in a few pairs of chopsticks to change it up! Communal forks/picks don't really work too well with this type of board since it's so hard to shake off a potsticker onto your eating plate!
The Board – Make sure you choose something sturdy and food safe like a wooden board or marble slab – it doesn't need to be a special board. Any board 16×24 inches or slightly larger are great party boards for 8 to 10 people and a standard board will work for a smaller casual crowd of 4 to 6 people. If your board isn't large enough, place your meats and add-ons on your main board and use extra bowls and plates for wrappers and extra fruit/vegetables.
Containers – Spoon out your sauces into shallow dishes and nestle them close to their pairings. A variety of soy sauce dishes and tapa plates are good for smaller sized extras.
Build the Board
Start with the Asian Meats and Appetizers – Lay down the main zones by the meats and appetizers. Section off your board so the varieties you've chosen have their own dedicated area. Make sure things are easy to grab by overlapping slices of char siu, making sure chunks of pork are cut cleanly so none are stuck together. If items such as fresh spring rolls are prone to sticking, separate them with basil leaves or lettuce. Stack skewers in layers and pile dumplings like a pyramid.
Place One or Two Sample Buns and Wrappers on Your Board – You can place one or two buns and wrappers close to the meats that they are paired with so your guests know. I would leave the rest of them off to the side so you have more room for extras!
Warm your steamed bao/wrappers – If you're using steamed bao and/or Mandarin pancakes, try to serve them warm. I would recommend placing a warm paper towel over them and microwaving for 30 seconds prior to serving. Keep the extras warm in a bamboo steamer or casserole dish with a lid. Keep warm your appetizers and meats and anything that should remain crispy like onion pancakes.
Nestle the Sauces and Fresh Fruits/Vegetables – Lay down the small tapas of pickled vegetables, sauces and condiments. Put handfuls of snap peas, carrots, red peppers and clementines.
Fill Gaps with the Other Snacks – Fill up spaces with smaller items like fried peanuts, shrimp crackers and whatever yummy treats you have. Add in some color with fresh herbs like cilantro and scallions.
Expert Tips
Keep meats and appetizers warm – Take out all store bought stuff out of the containers and packaging and place them in an oven safe tray. If you bought frozen Asian appetizers, cook them in advance. Fully cook all your goodies in advance and place them in a warm oven prior to assembling. By the time you're done assembling your board, all items will be at room temperature perfect for digging in!
Be plentiful with the extras and complimentary bites – The more the better. It's better the amount of complimentary bites and extras outnumber your meats and apps. It will make your board last longer, adds more color and flair and allows your guests to play with different combinations.
Nothing too saucy, sticky or soft – Be creative with the items on your charcuterie board but avoid anything that might fall apart when being picked up. Soft tofu, sweet and sour pork, cold noodles or sticky rice are things I would avoid. You want to make sure items are easily picked up whole and if dropped won't cause a mess to the rest of the board.
Have Fun With It – Play with proportions if you enjoy one kind more than the other.  Choose more of what you know you or your guests will love – there are no hard and fast rules!  There will always be an ingredient new to your guests.  Do some taste testing of combos, give some suggestions but let people navigate their own way.
How to Make An Asian Charcuterie Board
An Asian "charcuterie" board is a creative twist to the traditional meat platter. A beautiful board filled with char siu, sweet sausage, crispy pork, spring rolls and potstickers will entice a large group to dig in!
Ingredients
Meats
1

lb

in total of your favorite Asian barbecue or other meats

char siu (Chinese bbq pork), crispy pork, peking duck or roasted duck with bones removed, Chinese red sausage, Chinese preserved sausage, Vietnamese grilled pork sausage, curry fish balls, cuttlefish balls, shrimp balls etc.
Appetizers
18

pcs

total of your favorite Asian appetizers (try to make sure every guest gets one of each kind)

crispy vegetable spring rolls, shrimp rolls, fresh Vietnamese spring rolls, potstickers, Chinese dumplings, crispy wontons, fried glutinous rice dumplings (ham sui gok), black sesame balls etc.
Complementary Bites
18

pcs

wrappers

steamed bao (can be cut in half), iceberg lettuce leaves, Mandarin pancakes, onion pancakes

fruits

clementines, dragon fruit, tart mangos, Asian pear, fresh orange slices, green muscat grapes, cantaloupe

vegetables

sugar snap peas, carrots, cucumbers, red peppers
Extras
2-3

sauces

plum sauce, sweet hoisin, peanut sauce, sweet chili sauce, Sriracha mayo

pickled/spicy condiments

pickled radishes, cucumber, kimchi, jellyfish, firm/fried tofu

Asian snacks

crunchy peanut candy, wasabi peas, spicy peanuts, shrimp chips, crispy noodle snacks, sesame seed crackers (Pop pan), crispy rice crackers, sesame peanut candies
Instructions
Remove any store bought goodies and place them in an oven safe tray. Keep in a warm oven until ready to assemble. (Note 1)

Cook any frozen Asian appetizers beforehand according to package instructions.

Wash and trim any vegetables and have them ready. (Note 2)

Place meats and appetizers first on a food safe board. Placing them equally apart.

Place 1-2 wrapper pieces by the meats and leaving the rest on the side in a separate plate/tray.

Place sauces, chopsticks and tongs.

Fill gaps with fruits and vegetables and extra snacks.
Notes
Notes:
Any items that are roasted or fried will stay warm and crisp in the oven.  Anything steamed or boiled can be reheated prior to serving in the microwave with a damp paper towel over it.

Make sure you have all items ready to go prior to assembling.

If serving as a main course – double up amounts of your favorites if serving as a main course.  Add in fried rice or noodles and a side of cooked vegetables.