Super soft and fluffy banana cake that melts in your mouth. It's honestly the best way to make use of overripe bananas. Made with cake flour, this banana cake recipe is extra moist and tender with a super soft crumb.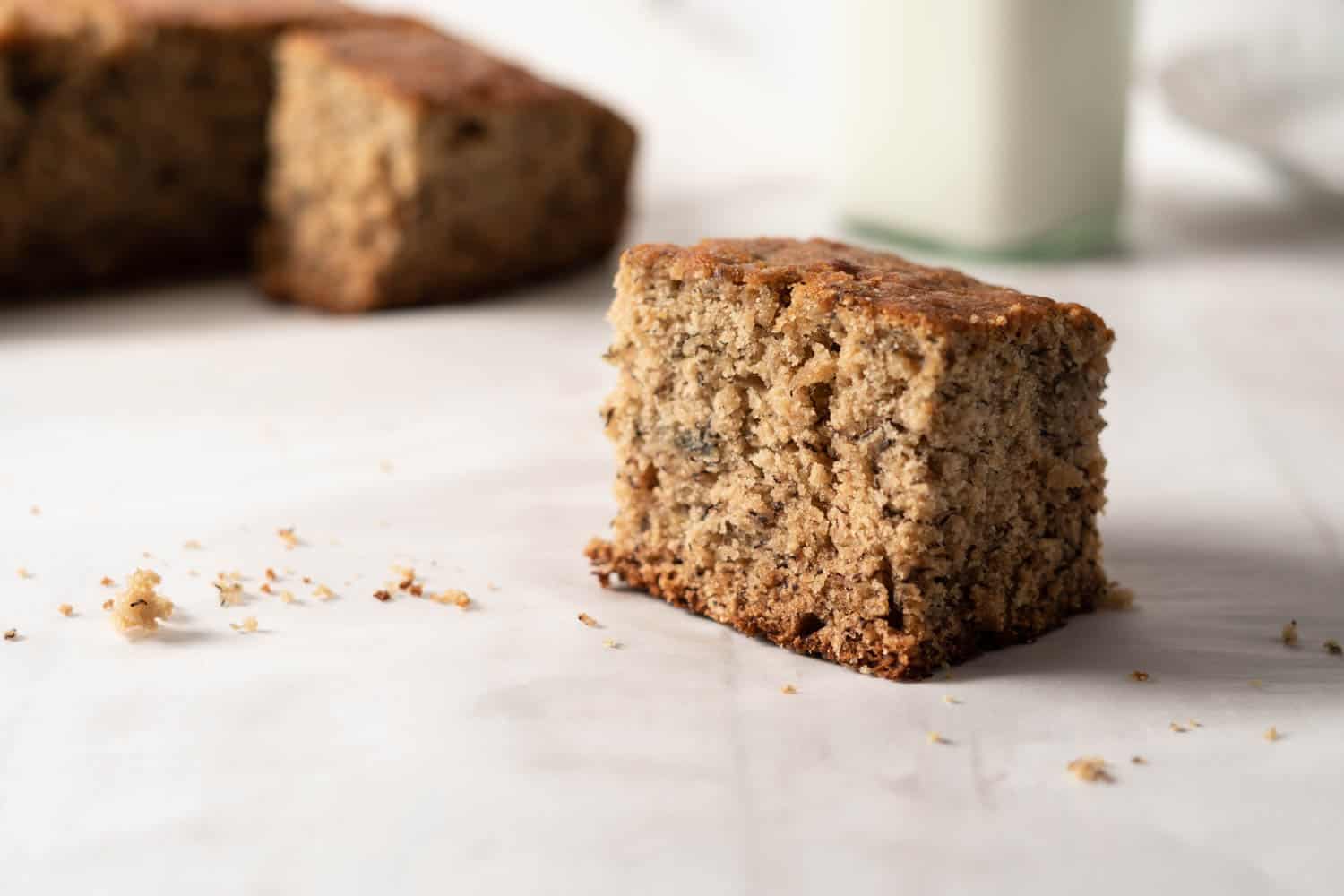 I always think there's something really satisfying about eating a piece of a cake with your hands. Sometimes a fork and plate just doesn't belong! With this cake, I find myself grabbing these squares right out of the pan for afternoon snack (I cover it with Saran wrap and leave it on the counter in full view….) The square size also makes packing them in kid lunch boxes easier too. And yep, I legitimize making this cake too regularly by overripening my bananas on purpose!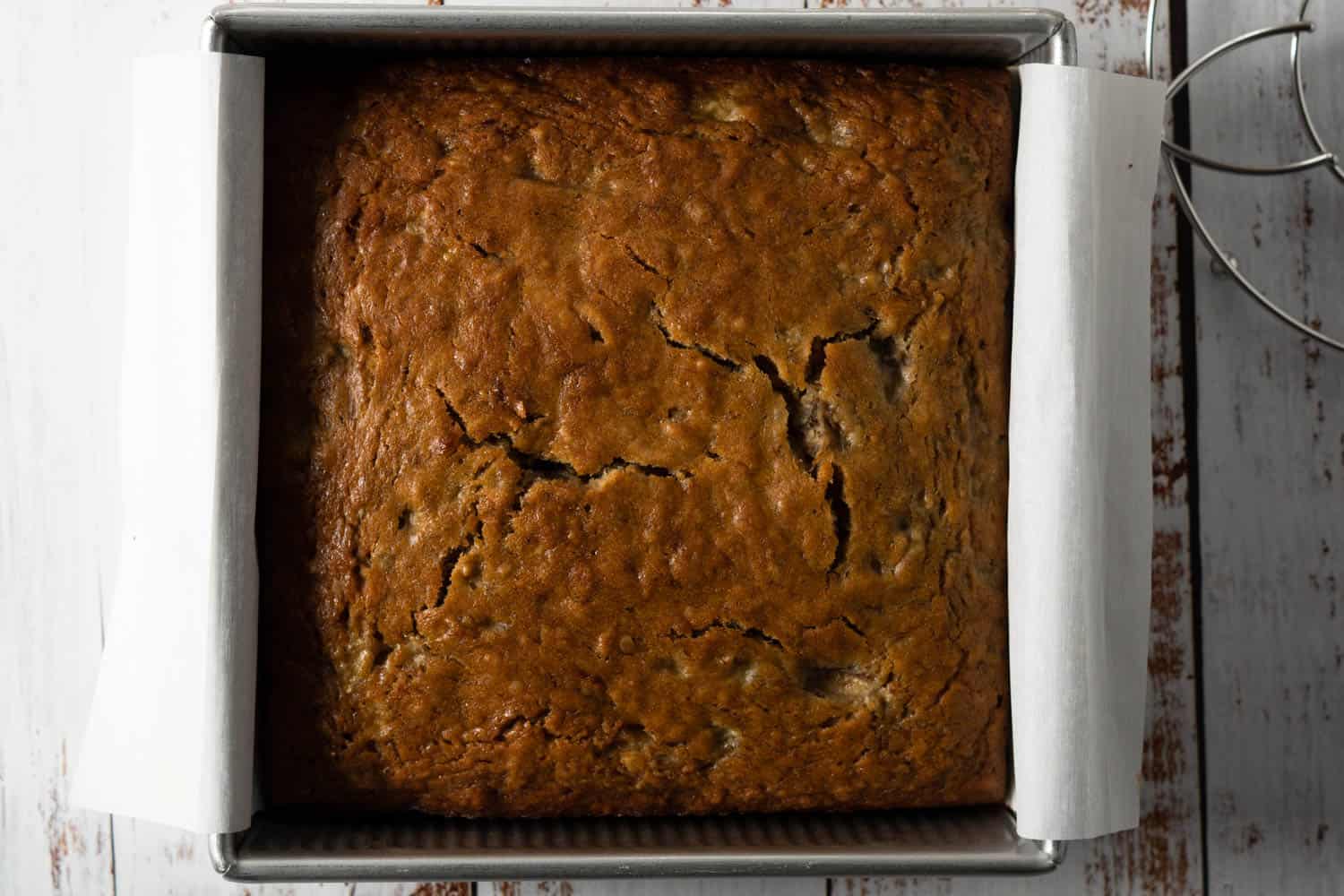 Simple Ingredients in this Fluffy Banana Cake Recipe
This cake just needs a few simple pantry ingredients which means it can be whipped up on the fly.
Cake Flour
The cake flour is what will give this cake its fluffy texture. I've made banana cakes with AP flour, whole wheat flour, a combination of both but I love the soft crumb and light texture of cake flour. This is a banana cake I also enjoy just by itself without nuts or icing to highlight the softer texture. Keep in mind, this is definitely a cake and not a banana bread. For a bread or a layer cake, I'd definitely use a flour with more protein for more structure, chew and versatility for mix-ins.
Unsalted Butter
The butter gives this cake a beautiful golden color and a lovely top crust. #buttermagic Make sure the butter is at room temperature so that it can be creamed easily with the sugars.
Bananas
This banana cake uses 4 bananas for an extra moist cake. I also like to roughly mash them to leave a few bigger chunks dispersed in the batter. It's important that the bananas are browning and freckling so that they
Eggs
Two room temperature large eggs are used for structure and richness. Room temperature allows better emulsification of the butter and sugar.
Sugar
This recipe uses both white and brown sugars for perfect texture and flavour. I wouldn't reduce the sugar in this recipe since it will change the texture. Also if you're enjoying this cake on its own, a little extra sweetness doesn't hurt.
Baking Soda, Vanilla, Salt
For lift and flavour of course!
Preparation Tips
When preparing this cake, I usually use 3 (2 medium & 1 large) bowls and a hand mixer. The 2 medium bowls are to mash the bananas and mix the dry ingredients. The largest bowl is to cream together the butter and sugars and combine all the wet ingredients. Both the contents of the medium bowls will then be poured into the large bowl where the cake comes together.
Mixing the ingredients
This recipe requires creaming the butter and sugar together. To make a fluffy cake, this part is what takes the longest and is also the most important. 90% of your prep time should be this step.
When adding the dry ingredients (flour, salt and baking soda) into the wet batter, gently fold it in with a spatula until its almost mixed it – a few dry spots is ok! This should take less than a minute. Overmixing the flour in will create a stiffer cake (this is because the gluten bonds strengthen the more you mix leading to more chewiness)
Pouring the batter
I use an 8″x8″x3″ shallow square pan for a quicker bake time. I also prefer to butter and line it with parchment paper for easy release and cutting into squares. The small size also makes this a perfect cake to put in your toaster oven saving you time from preheating your larger oven. So if you're in a crunch and need to whip up something fast, this cake is perfect!
This cake lasts in an air tight container at room temperature for about 3 days. It also freezes well up to 3 months but honestly, it's never really makes it there…
If you're a fan of cake, check out my lunchbox cake recipe as well. A smaller size so you can feel less guilty! Leave me a comment if you tried this cake!
Adapted from food.com banana bread recipe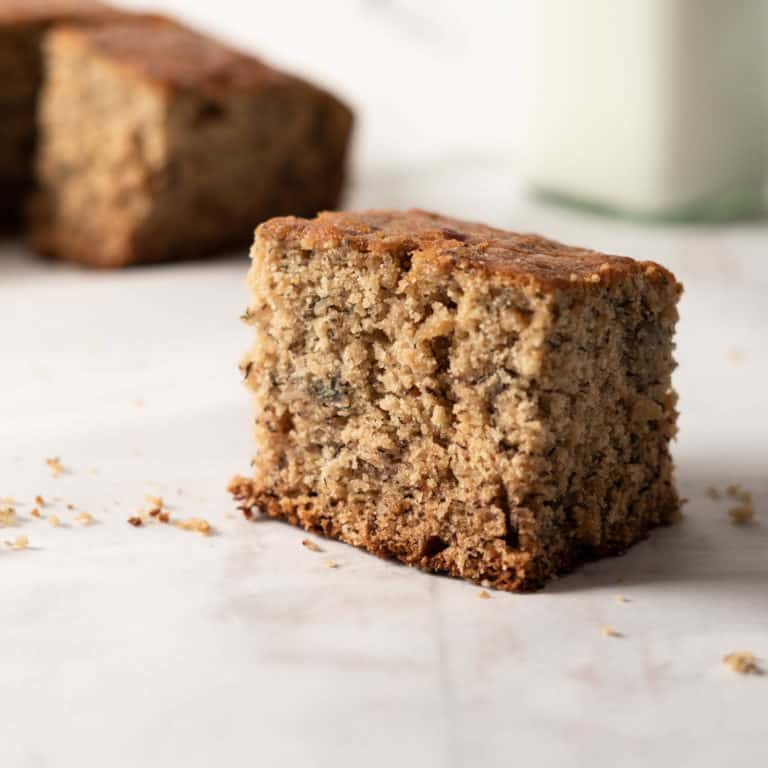 Super Easy Fluffy Soft Banana Cake
Super soft and fluffy banana cake that comes together in just 15 minutes. It's the best way to make use of overripe bananas. Made with cake flour, this banana cake is moist, tender with a super soft crumb.
Equipment
8" x 8" x 3" square cake pan

3 bowls (1 large, 2 medium)
Ingredients
4

medium

ripe bananas

ideally with brown freckles

1/2

cup

dark brown sugar

1/2

cup

white sugar

1/2

cup

unsalted butter

at room temperature

1

tsp

vanilla

2

large

eggs

at room temperature

1

tsp

baking soda

1/2

tsp

kosher salt

2

cups

cake flour
Instructions
Grease a 8"x8" square cake pan and line it with parchment paper

Preheat toaster oven 350 F

In #1 bowl, unpeel and mash bananas with a potato masher or fork. Some large chunks are ok! Set aside

In #2 bowl (your largest bowl), cream butter, vanilla and sugars until light and fluffy with hand mixer at least 7 mins. The mixture should not be clumping to the mixer attachment and should become paler in color when mixed thoroughly. This ensures enough air for a light and fluffy cake

Add in eggs one at a time to #2 bowl and mix thoroughly. About 5 mins

In #3 bowl, mix flour, kosher salt and baking soda with a hand whisk

Add #1 bowl of mashed banana to #2 butter/sugar bowl. Mix wet batter by hand gently with a spatula

Pour in #3 bowl dry flour mixture to #2 wet batter. Fold super gently by hand with the spatula no more than 1 min until flour is JUST mixed. Never overmix! Overmixing forms more gluten bonds resulting in a tougher cake!

Pour batter into prepared cake pan

Put cake into oven for 35-40 mins until tooth pick pierced in centre comes out clean (a few crumbs should be attached)

Cool and cut into 2 inch squares