Flaky tender butter infused salmon with a savoury soy sauce. This umami bomb is ready in just 15 minutes! If you're a salmon lover you will be making this pan seared salmon recipe again and again! So tasty with some mixed greens tossed in olive oil or a bed of fluffy steamed rice. Your choice!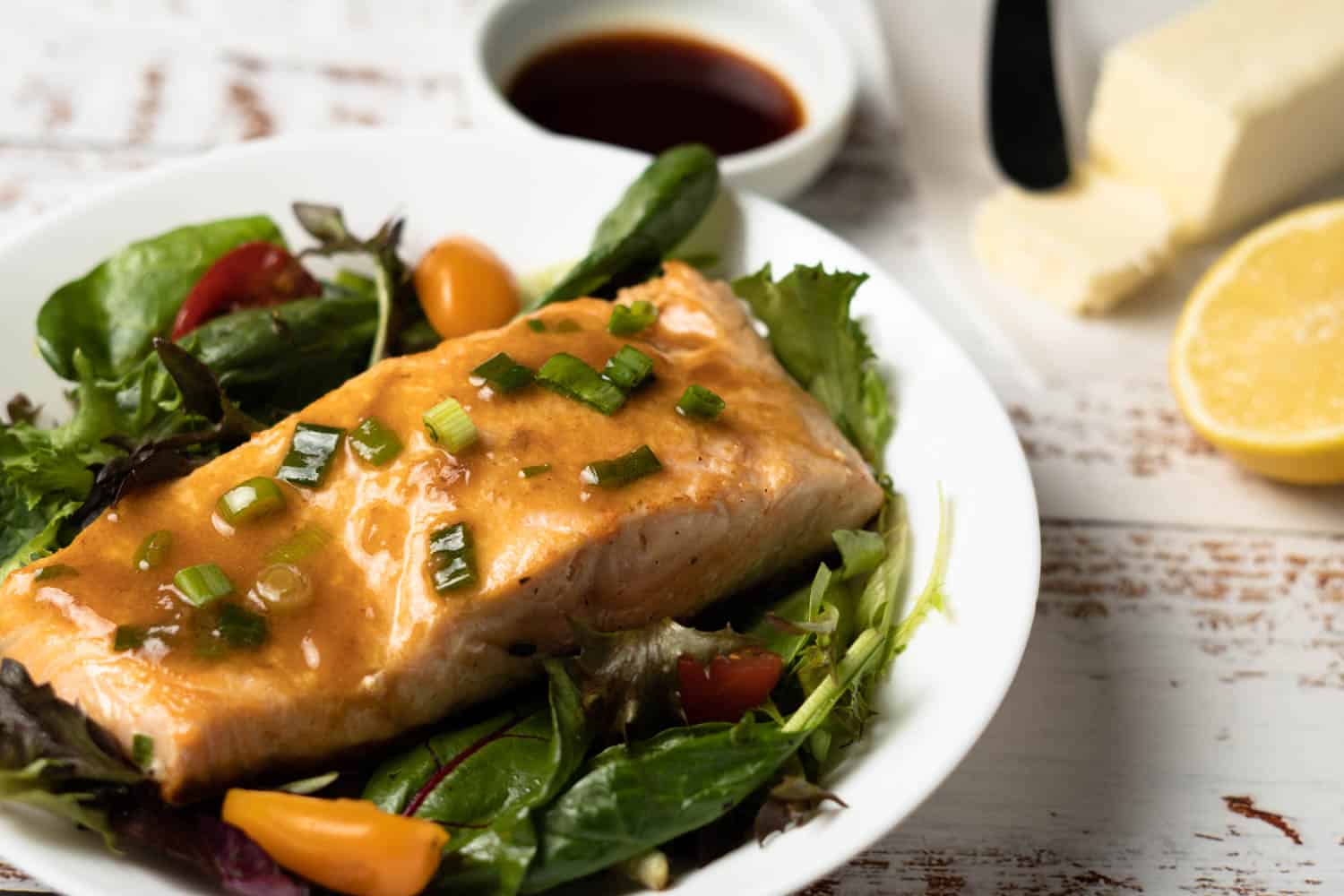 Freshwater salmon is one of my favourite types of fish and our family has salmon almost every week in some kind of form. Sushi, baked, pan seared or steamed, there are so many varieties to prepare salmon and most importantly, really quick to cook. In addition, salmon is a lighter and healthier option so it's a win-win in my house.
Recently, I discovered pan seared butter basted salmon and my daughter is now ONLY requesting this form of preparation. I don't blame her – it's absolutely delicious and dinner is ready in 20 mins #win
Preparing the Salmon
One of the most important things is to always choose a salmon filet with the skin on. The skin acts as a barrier to the fish when pan searing and it crisps up really nicely (+presentation points!). Chef Ramsey always recommends scoring the skin to prevent buckling when pan searing, buuuutttt I've never had that problem (though if you're having in laws or friends to impress then make sure you do this step just in case).
The salmon pieces should also be 2-2.5 inches thick for easy flipping. If you're working with anything bigger you run the risk of breaking the delicate flesh. (-presentation points!)
Cooking Salmon
Cook the salmon on low heat – nothing higher. Once the pan is heated with oil, add the salmon (placing it away from you) and make sure there is a nice sizzle sound as it lands on the pan. This means the oil is hot enough for cooking and won't making your food unnecessarily oily. Turn down the heat immediately and just let it sit.
Watch the side of the salmon and as it cooks the flesh will turn lighter (bottom up). When you see the color change 2/3 up the way (depending on how thick the salmon is), turn it over and cook the flesh side for 1 minute. It's like kissing the top and takes 10% of your total cooking time.
You should still see the middle part of the salmon dark in color. Turn the salmon back over skin side down. Be careful!
Butter Basting Salmon
Cut two slabs from a stick of butter (roughly 2 tablespoons) and add it to the pan. Since the heat is low, the butter should melt quickly and foam…but not brown. This is good! Tilt the pan and spoon it over the fish. This will cook the fish further and leaving the centre a beautiful pink and oooh so moist! This step should be about 30 seconds. It's quick!
Remove the salmon to rest, squeeze some fresh lemon juice on it and add a pinch of salt. Don't skip the step! It elevates the fish!
Make the Pan Sauce
Using the same pan with all the salmon goodness and melted butter, add some scallions, soy sauce and chicken broth. Let the mixture heat till simmering and thicken it up with corn starch slurry. Finish it off with some sesame oil.
During my recipe development, I was worried the sauce might be too simple, but I was wrong! The flavour left over on the pan from the cooked fish along with the sweetness of the green onions and soy melded beautifully!
Spoon the sauce over your fish and serve with some greens and/or RICE! Leave me a comment below and let me know what you think!
Pan Seared Salmon with Butter Soy Sauce
Flaky butter based salmon drizzled with a light soy sauce dressing. This dish is ready in just 15 minutes and guaranteed to be a weeknight staple! Enjoy with salad greens or a bed of steam rice.
Equipment
8 or 9 inch non-stick fry pan
Ingredients
For Salmon Preparation
1

lb

fresh salmon filet with skin on

norwegian or atlantic

1/2

tsp

garlic powder

kosher salt

black pepper

(optional)
For Cooking Salmon
2

tsp

extra virgin olive oil

1

lemon wedge

2

tbsp

unsalted butter
For Pan Sauce
2

sprigs

green onion

cut into 2 inch sections

2

tsp

light soy sauce

1/2

tsp

sesame oil

1/2

cup

chicken broth or water

2

tsp

corn starch

mixed with 2 tbsp water to make slurry

chopped green onion

for garnish (optional)
Instructions
Cut salmon length wise into two portions – each piece should be less than 2.5 inches thick for easy flipping

Sprinkle salt, garlic powder and black pepper evenly on all sides of the salmon. Rub in seasonings

Turn heat on medium. Heat 9 inch non stick fry pan. Add olive oil

Place salmon skin side down on fry pan. You should hear a satisfying sizzle! Lower heat to low immediately

Pan fry salmon skin side down on low heat till the pink flesh is pale 1/2 up from the bottom. You should see the skin change from light (cooked) to dark (uncooked). This should take approximately 7-10 mins depending on how thick your salmon piece is. In the meantime mix the corn starch slurry if you haven't already

Gently flip and cook the top of the salmon for 1 min. The middle of the salmon should still be a darker pink color and the fat shouldn't be rendering out (i.e. white juices coming out)

Gently flip back skin side down

Add the 2 tbsp butter to the pan. As it melts down and starts to foam, spoon it over the salmon. Spoon for 1 min

Remove salmon and put it on your serving plate. Squeeze a bit of fresh lemon juice using the lemon wedge and sprinkle a pinch of salt. Let rest while you work on the pan sauce

Change heat to medium. On same pan add green onions and fry for 30 secs

Add chicken broth/water, soy sauce and let simmer till gently bubbling

Turn heat to low. Add corn starch slurry, stir until sauce thickens (about 1 min). If sauce is too thick add a bit more liquid

Pour sauce over salmon. Add salt and pepper to taste. Garnish with green onions