Cooking hacks are those 'aha' moments that make mealtime easier and more successful in any home kitchen. They're like cooking 'street knowledge' that helps speed up cooking or impress your guests 🙂 As a mom, a busy professional or a beginner home cook, helpful tips like these (69 and counting!) will always increase your confidence in the kitchen.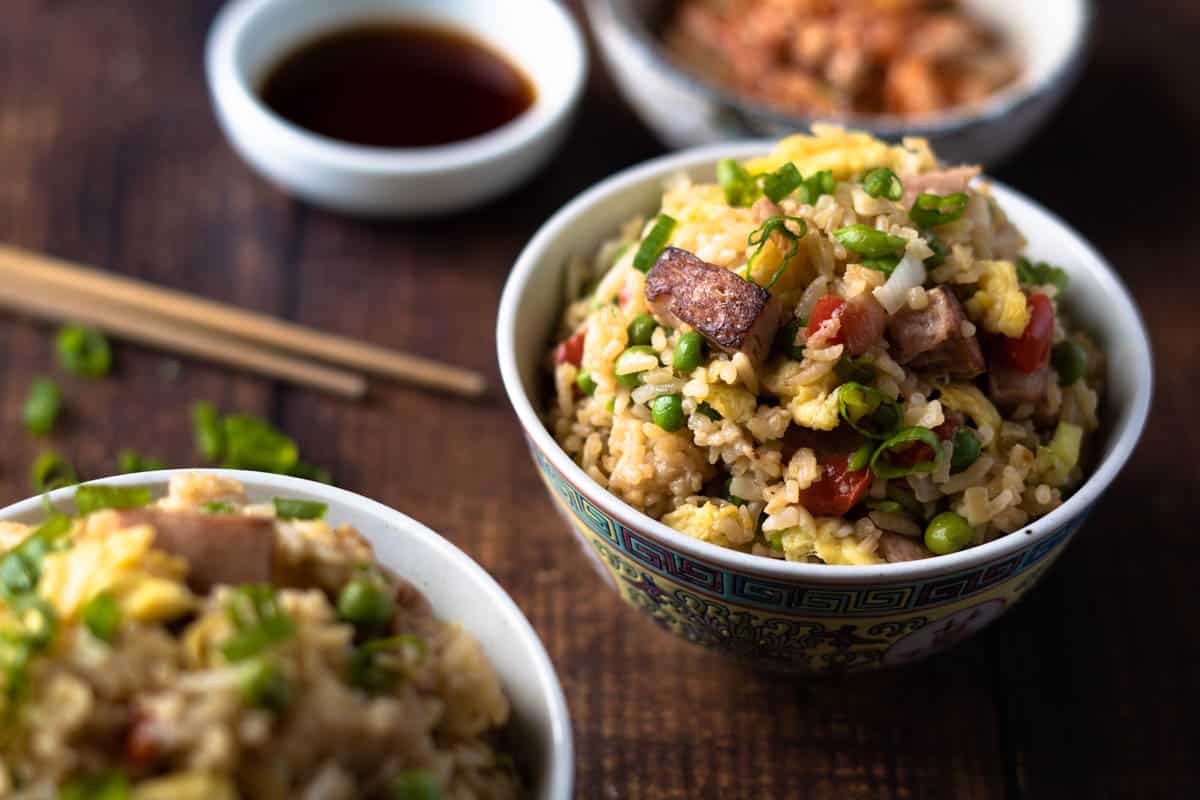 Knowing how to cook is always worth mentioning especially on your dating profile. In my case, it's to feed my hungry kids and hope for a proud mom moment when they request my homemade pasta over McDs. It's happened!!! I love to cook and through the years I've picked up tips and tricks that have made life a little easier. Here I've compiled my personal list of cooking hacks in no particular order that has made me a better cook. These aren't weird hacks like using a blow dryer in place of a blow torch – just simple good ol' tips you can apply today!
If you embrace fast meals, are open to all kinds of cuisines (Asian, Italian and American are my favorites!) and appreciate all things tasty then I hope there are a few in here that will improve or at least simplify your mealtime too!
Cooking Wisdom
I'm always looking for cooking knowledge and love reading about cooking science. I think it frees you from sticking to a recipe and allows your creative juices to flow.
Learn a cooking technique and not a recipe. If you understand how to fry, steam, braise or pan sear, you don't have to rely on recipes as heavily and cook with your intuition and senses 🙂
You can always stop cooking. If something is going wrong, take it off the heat and regroup!
Meal Preparation Cooking Hacks
Being comfortable with a knife and other kitchen tools really makes cooking that much smoother. I've learned a few tips to keep your sanity and fingers safe!
Spinny or shifty cutting board? Wet a paper towel and place it under your cutting board to lodge it. Chopping has just got 10x safer!
Rinsing herbs? Clean and dry them super fast using a salad spinner. Dry mushrooms, broccoli, peppers or anything you need to stir fry to cook them better. Rinse and drain beans and use the bowl to serve it in. It is one of the most versatile tools in your kitchen!
Clean sand off your leafy vegetables (spinach, kale, bok choy) by soaking them in a sink full of water and shaking them a few times. Any dirt will settle at the bottom in about 15 minutes.
Hold your knife where your knife blade and handle meet for better control. Any further back and you're in the wobbly territory.
Always curl your fingers in when chopping and slicing so that the side of your knife makes contact with your knuckles. Save those fingers!
New to slicing? Go slowly…don't rush it. More uniform slices and less chance of an accident!
Need to peel ginger? Use a spoon!
Smash your whole garlic first to remove the skins easier.
Use a lot of minced garlic? Buy peeled whole garlic cloves to save time. They will last for weeks in your fridge as long as they aren't cut or squashed releasing their flavors and aromas.
Chop your basil by rolling it like a cigar before slicing.
Roll your lemons first to soften them before cutting them open and squeezing them.
Juice your lemons over a small sieve in a bowl to catch all the seeds.
Need to peel raw tomatoes? Score them and place them in a bowl of just-boiled water. Cover for 10 minutes. The peel comes right off.
Slice your tomatoes parallel to the stem for prettier slices.
Slice your mushrooms with an egg slicer for uniform thickness.
Need to thinly slice your chicken breast? Freeze it for 20-30 minutes so it's partially frozen but not solid for easier slicing.
Always mince and chop with a chef's style knife. Don't use a paring or steak knife, you won't get a good mince just irregular frustrating chunks.
Use squeeze bottles. Buy your cooking oils and condiments in bulk and fill up squeeze bottles. It also makes it more accurate to dispense the right amount for sauteing, dressing your burgers or salads.
Bring eggs to room temperature by placing them in a bowl of warm water.
Soften butter quickly by slicing it into ½ inch chunks. Heat 2 cups of water for 2 minutes and place your butter slices in the microwave after. The residual steam will soften the butter.
Need to remove the pit from your avocado? Protect your hand by folding a kitchen towel and placing the avocado on top, pit side up. Hit the pit with a knife to remove it and protect your hands.
Peel and freeze your overripe bananas if you don't have time to turn them into banana cake just yet.
Save your herbs by blending them, pouring into ice cube trays and freezing them.
Don't rinse your air-chilled chicken. You're just adding more water which will interfere with browning.
Cooking Hacks
This is a list of cooking 'secrets' that I think just make food taste better. Some are from Reddit forums that I've personally applied in my own cooking or learned from friends and Chinese aunties.
Always season your food properly. You'll be a better cook immediately. Salt brings out the flavors and water in food and plays a critical role. Just ask Samin Nosrat 🙂
Always preheat your pan before cooking and adding oil.
If a recipe calls for melted butter, see if there is a chance to even brown your butter for more flavor. (I'm talking to you chocolate chip cookies!)
Pair cinnamon with your chicken. It's a match made in heaven in any chicken recipe.
Use a bit of espresso powder in your chocolate recipes to bring out more chocolatey flavors.
Add a pinch of salt to your hot chocolate to make it more chocolatey.
Sprinkle some salt on your watermelon or strawberries to make them sweeter.
Burning your onions will make them sweeter. Burning your garlic makes them bitter. When sauteing garlic, make sure you use medium heat to avoid burning.
Salt your eggs 15 mins in advance if you can. They will be more flavourful and give you some extra buffer from overcooking.
Always salt your steak at least 45 mins before grilling but never less. The only time that doesn't apply is when you're salting right before grilling or pan searing.
Coating your skinless turkey breast/chicken breast in mayo before roasting will keep it moist.
Always sear salmon skin side down and cook that side 90% of the time.
Always use a meat thermometer to check for doneness. It's your friend. Don't bother looking for clear juices or poking at your roasts, remove the ambiguity and just check the internal temperature.
Add a dash of almond extract to your French toast soak. It will change your life.
Batch make your pancakes and freeze them for fresh homemade pancakes any time. Works for waffles too! Toast them in the oven or if you're in a rush (like in the morning before school) pop them in the microwave.
Add a bit of salt to all your desserts. It's the secret to fancy desserts!
Not sure what oven temperature to use for a baked dish? 350°F is the safe universal oven temp for most recipes.
Always roast chicken at least 400°F (ideally 425°F) never less.
Spatchcock or butterfly your chicken to cook it faster and more evenly.
Are shells always sticking to your boiled eggs? Place your eggs when the water is boiling, never before.
Avoid cooking stone-cold meat right out of the fridge. Take your meat out 15-20 minutes before for more even cooking.
To measure water for steam rice in a rice cooker, place your middle finger on the surface of the rice and add water till it reaches the first joint line. It just works – regardless of how much rice you're trying to cook!
Always weigh your ingredients for baking to produce consistent results.
When measuring flour for baking (if not weighing), always fluff with a fork first and spoon it into your measuring cup.
Always stick to parchment paper when baking – don't use aluminum foil!
Always take out your soft cookies when the center still looks soft and a bit under baked. Or else you risk overbaking and getting dry and hard cookies.
When baking brownies, use a glass pan if possible. Always take out before it's thoroughly baked. If you take it out too early, you can always pop it back in!
Is your dish lacking a bit of flavor? Sprinkle some MSG or chicken powder if you're in a bind 🙂 Shhh – I'll never tell 🙂
Pickle sliced onions and leave them in your fridge. Top them on salad or sandwiches to amp up a boring last-minute lunch.
Make a jar of ginger scallion sauce and store it in your fridge for a condiment to add to steam rice, noodles, BBQ and roasted meats.
Time Saving Cooking Hacks
Elevate a premade salad kit to save time but still keep it fancy 🙂
No time to bake a cake? Elevate a just-add-water box cake mix using eggs, melted butter and milk.
Make sauces in advance and store them in the fridge when you need them. This works really well for stir fry sauce and especially pasta sauce! Keep it in the fridge for the week or portion and freeze 🙂
Keep frozen shrimp for a quick meal. You can defrost shrimp in water in 15 minutes.
Make an egg dish for a quick meal.
Quick 5 minutes vegetables are frozen edamame, microwaved peas and/or corn. Use frozen if you don't have time to clean fresh ones.
Sneak some vegetables in your mashed potatoes. Add some frozen cauliflower to your boiling potatoes. Mash together and your kids are none the wiser 🙂
Save time by adding your marinade to your meats before freezing them. Especially if they will be stewed, pressure cooked or in an oven. The marinade will work it's magic when you defrost before cooking.
Make oven recipes to reduce active cooking time (i.e. need to make dinner but have to watch your kids).
Buy a rice cooker. It'll not only make perfect rice but quinoa and couscous without any involvement 🙂
I always make extra rice to use for fried rice (just in case) over the next few days for lunches or busy nights.
Always keep frozen cookie dough for any cookie emergencies, surprise guests or random kids dropping by. You will get brownie (cookie?) points for not defaulting to Pillsbury.
Pre-make a bottle of your favorite salad dressing to speed up your lunch salad prep.
Is there a cooking tip or hack you'd like to share? Add a comment below. I'll be updating this list regularly as I continue to cook and learn 🙂